Green Card Attorney in Fort Lauderdale
Am I Eligible for a Green Card? Call

(954) 466-0323

to Find Out!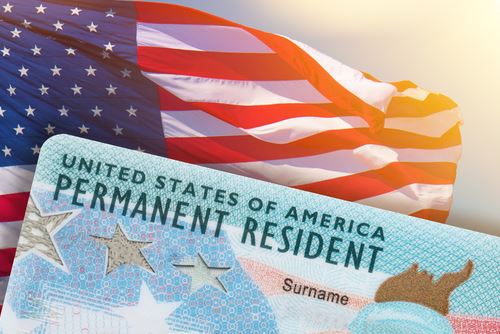 Countless people apply to become lawful permanent residents every year, and the eligibility requirements are strict for securing one of the limited numbers of green cards that are issued according to the quotas prescribed by the Immigration and Nationality Act. In order to successfully navigate this complex process, a dedicated immigration lawyer from Guerra Sáenz, PL can help you.
We have helped many individuals become lawful permanent residents in the United States by helping them acquire a green card. Take a look at our client testimonials and see why we are the most trusted team of green card attorneys in all of Fort Lauderdale.
Why Choose Our Green Card Lawyers?
Attorney who is a native Spanish speaker
Well over 1,000 immigration and criminal cases handled
Board Certified expertise in immigration law (true of only 6% of Florida attorneys)
Internationally recognized and top-rated legal counsel
Let us help you with your green card application. Call our firm or request your online consultation today!
You can apply for a green card if you fit into one of several categories, which include—among others—being an immediate relative of a U.S. citizen or another green card holder or being offered a job in a position for which there are insufficient workers already living within the United States. It is also necessary that you have a valid immigrant visa and that you have not been classified as being inadmissible, which can occur on grounds such as having a contagious disease or being convicted of a crime of moral turpitude or a drug crime.
How Long Does It Take To Get A Green Card?
The application process involved in acquiring a green card is oftentimes extensive and takes time. The precise time that it will take you to get your green card will depend on a number of factors.
Some factors to consider include the following:
Is your relative or spouse a US citizen or a legal permanent resident of the US?
What is your current nationality?
Where are you applying for the green card?
How old are you? Are you over or under the age of 21?
Hiring a green card lawyer can help save you time by ensuring that all of the paperwork is done quickly, efficiently, and correctly. A single mistake in your application process may end up costing you both time and money. Contact our team of green card attorneys in Fort Lauderdale today to learn more about how we can help you in your journey to becoming a citizen, and to learn more about how long the application process will take for you.
What Happens If Your Green Card Application is Denied?
There are a few reasons why you can be denied a green card, including:
Your criminal history disqualifies you from a green card
You previously entered the country illegally
If obtaining a green card through family, your relationship with your family member could not be proven
You do not otherwise meet the qualifications for your specific employment-based visa
If you receive a green card denial, you do have options to appeal the decision. you can file a motion to reopen your case if you have new evidence or documentation. You can also file a motion to reconsider if you believe there was an error in regards to USCIS's decision. Additionally, you can file an appeal to the Administrative Appeals Office to re-evaluate the decision.
These options all involve complex legal procedures that are best handled by a qualified immigration lawyer.
Helping Immigrants Navigate the Green Card Application Process
Come to Guerra Sáenz, PL for help in petitioning for your green card. We offer our services in Spanish, and by choosing our firm you will be working with an attorney who personally had to fight to secure his own green card, having come to this country at the age of 15 years old. You will also get the benefit of working with a lawyer who has been Board Certified in Immigration and Nationality Law.
Our firm has represented well over a thousand immigration cases of all types, and we can assist you with every step of the process, including gathering any necessary documentation, addressing criminal immigration matters which could cause you to be inadmissible, and appealing any unfair denial of your petition. Contact our Fort Lauderdale office today and find out how we can help you obtain a green card.
How Can A Green Card Attorney In Fort Lauderdale Help You?
A green card lawyer can help you tremendously in your process to obtain a green card. Not only can an attorney help save you time and money by ensuring that everything is completed correctly, but your attorney will also have access to valuable resources that may help you in your journey to acquire permanent US citizenship. Your green card lawyer with providing you with the following help.
Your Green Card Attorney Will Handle the Paperwork
The paperwork involved with applying for a green card can be extensive and draining. Your green card attorney will be able to handle all of the hefty paperwork for you so that you can spend time preparing for your interview, and focusing others on other things that require your attention during this time.
Your Green Card Attorney Will Save You Time
Having an experienced attorney by your side to help you throughout the process of acquiring a green card can help you save a lot of time. The process is extensive and may be tricky if handled alone.
Your Green Card Attorney Will Provide Interview Help & Tips
Your green card attorney can help to prepare you for your green card interview and will point you to specific aspects that you should spend special attention to. Your attorney will go above and beyond to ensure that you are equipped with the necessary information to help you succeed during this process.
Your Green Card Attorney Will Provide Legal Guidance
Your attorney will be able to provide you with important legal guidance that will help to prevent you from making costly mistakes. Your attorney will also be able to answer any questions that you may have regarding the process, and ensure that you have all of the information that you need.
Your Green Card Attorney Will Support You
Having a reputable lawyer by your side who knows what he or she is doing can help to alleviate stress and offer you the emotional reassurance that you need during this time. Your lawyer will support you and ensure that you are on the right track to acquiring citizenship.
Your Green Card Attorney Will Help You Prevent Mistakes
The slightest mistake on your paperwork involved with applying for a green card may cost you both time and money. Your lawyer will take care of all of the paperwork and ensure that everything gets to where it's supposed to be at the right time.
Suggested Reading:
Call (954) 466-0323 or request an online consultation today to start finding answers!

Canal de Inmigración
Video Center